Gregory Elliott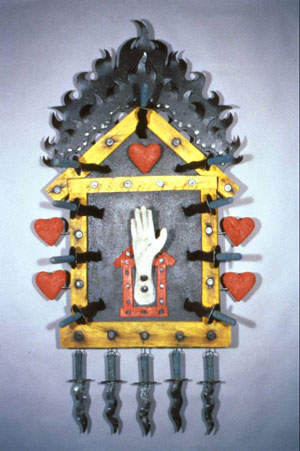 Wall Works
@
cactus bra SPACE
106 C Blue Star
San Antonio, TX 78204
210-226-6688
www.cactusbraspace.com
Show May 1-21, 2009
Opening Reception, Thurs. April 30, 6-8pm and Fri. May 1, 6-9pm
After by Appointment
A selection of sculptures by Gregory Elliott will be on exhibit at Cactus Bra Space in the Blue Star Complex, San Antonio, Texas from May 1,2009 to May 21, 2009.
Elliot has been making and exhibiting sculpture for the past 30 years. He has a distinguished career as both an artist and educator, and has spent much of his career in Texas. Elliot is a professor of Art and chairperson of the department of Art and Art History at the University of Texas at San Antonio.
Elliott holds three degrees: a BFA and MA from Stephen F. Austin State University and an MFA from Southern Methodist University. He was the first Artist in residence for the Ysleta Independent School District in El Paso, was a member of the faculty at the El Paso Community College and Brookhaven College in Dallas, and spent 14 years as part of the faculty at Louisiana State University in Baton Rouge from 1988 to 2002. Prior to his appointment at UTSA, Elliott served as chairperson for the Department of Art at The University of Texas at El Paso.

Elliott has exhibited nationally, with numerous awards and distinctions. His work is included in the permanent collections of the National Ornamental Metals Museum in Tennessee and the Mobile Museum of Art in Alabama as well as numerous public, university and private collections.