San Antonio Art Scene
There are the usual institutions like San Antonio Museum of Art, ArtPace, Blue Star Contemporary Art Center and the Mc Nay Museum, but here are some of the "you need to know someone to know about them" alternative spaces. Here is a map for you to print out and bring with you on your visit to San Antonio. If you live here and don't know about them, don't be a stranger.
Keep in mind most of these spaces are by appointment after the opening so you will need to call ahead in most cases but they are worth the extra effort.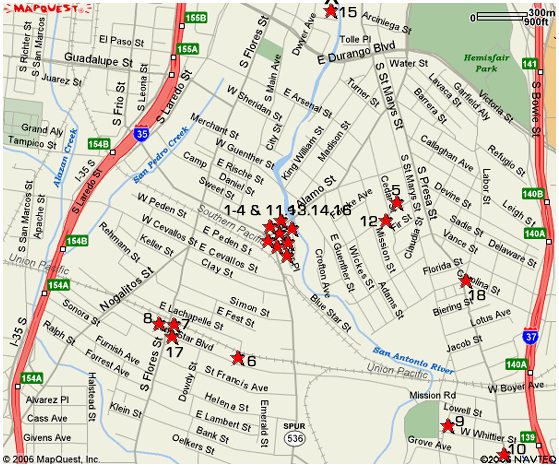 1) Cactus Bra Space
106 C Blue Star St.
210.226.6688
2) San Angel Folk Art
110 Blue Star
210.226.6688
OPEN 7 DAYS a WEEK
3) Three Walls
106D Blue Star St.
210.212.7185
4) Stella House
106 A Blue Star
210.286.3817
www.daynadehoyos.com
5) Sala Diaz
517 Stieren
210.695.5132
6) Triangle Project Space
416 E. La Chapelle
210.222.1861
7) Salon Mijangos
@ One9Zero6 Gallery
1906 S. Flores St.
210.271.9592
8) Gallista Gallery
1913 S. Flores
210.212.8606
9) RC Gallery
222 Roosevelt
210.362.9668
CLOSED
10) Wiggle Room
2301 S.Presa
210.534.2375 CLOSED
11) Bismark Studios
1420 S. Alamo St.104G
210.379.8743
12) Unit B
500 Stieren St. 312.375.1871


13) UTSA Satellite Space 115 Blue Star
210.212.7146

14) Stone Metal Press
1420 S. Alamo St.
210.379.8743
15) i2i Gallery
2110 Mc Cullough
210.744.7887 CLOSED

16) Arte Reyes
104 J Blue Star
210.215.7743
17) Flight Gallery
1906 S. Flores
210.872.2586
18) Green Arts Compound
1420 S. Presa
210.370.3778 CLOSED
Click here to print map
Also, if you want another fantastic map by the brilliant kids at Emvergeoning.com here is their map, it's Googleafide. http://emvergeoning.com/map

Now onto the other more well know exhibition spaces in town:
Artpace - A foundation for Contemporary arts that is a great opportunity for any artist. Also, it has just opened up it's residency submission to anyone who is interested.
Blue Star Arts Complex- The complex that the Cactus Bra Space is located in. See what other great surprises are here for your enjoyment. Click here for a great map of the complex. As much as we like the element of surprise, we want you to be able to find Cactus with out a hitch.
Blue Star Art Space - The name sake of the Blue Star Arts Complex.
San Antonio Museum of Art - A great collection of Wedgewood and Nelson Rockafeller's Latin American Collection.
Southwest School for the Arts and Crafts - Gorgeous grounds and amazing classes.
Guadalupe Cultural Arts Center- A foundation to promote and preserve the arts of the Latin Culture.
The Carver Cultural Arts Center- Educating and strengthing the community in San Antonio.
Finesilver Gallery - Top notch gallery in San Antonio.
REM Gallery - Dana had a dream and she made it come true.
Joan Grona Gallery - A San Antonio institution.
McNay Museum - Housed in what was the home of the late Marion Koogler McNay, the McNay Art Museum focuses primarily on 19th- and 20th- century European and American art
cactus bra space, san antonio, tx
an artist run alternative art space
2008
info@cactusbraspace.com