Leslie Mutchler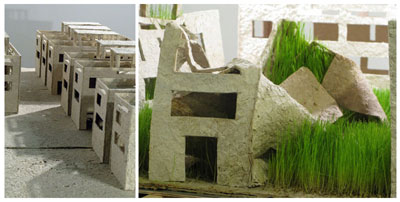 OverGrowth
Opening reception: Thursday, October 1st, 5-8pm and Friday, October 2nd, 2009 6-9pm
@
cactus bra SPACE
106c Blue Star
San Antonio, TX 78204
www.cactusbraspace.com
cactus bra SPACE is pleased to announce the opening of OverGrowth, a site-specific exhibition by Leslie Mutchler, which explores the inevitable adaptation of modernist design in todayís contemporary culture. Modeled after Le Corbusierís Quartiers Modernes Fruges in Pessac, France, Mutchlerís recycled paper structures collapse and evolve as rye grass grows wild, destroying the physicality, and perhaps, the integrity of the modern house structures. The opening reception for the exhibition will be Thursday, October 1st, 2009, from 5-8pm and Friday, October 2nd, 2009, from 6-9pm. Due to the nature of this organic material the installation will be on view for two nights only.
Leslie Mutchler, an artist working in Austin, Texas builds structures, landscapes, and objects that aspire to perfection, utilizing recycled paper as a primary source material. These utopian structures fall continuously short- at times resolving themselves as an exercise in futility.
Her multidisciplinary work challenges our expectations of accumulation and minimization by sourcing from a recognizable vocabulary of modern and contemporary furniture, interior and architectural design. Mutchler earned an MFA from Tyler School of Art, Temple University in Elkins Park, PA and currently is Assistant Professor at the University of Texas at Austin.