Michelle Rozic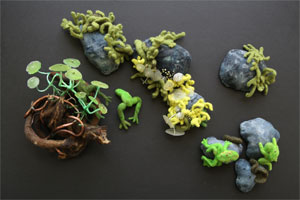 Wilderness


@
cactus bra SPACE
106 C Blue Star
San Antonio, TX 78204
April 1 – 21, 2011
Opening reception First Friday April 1, 6-9 p.m.
After by appointment

cactus bra SPACE presents Wilderness, a solo show by Nacogdoches artist Michelle Rozic that opens on First Friday, April 1, 2011, 6-9 p.m. Wilderness is an exhibition of felted representations of mutated suburban flora and fauna with framed works on paper scattered throughout. Reminiscent of a cabinet of curiosities, this installation exists at the place where a natural science exhibit meets a hobby store.

Pollinators and other small creatures are often the first to show harmful environmental changes, shedding light on humanities impact on our local environments. These representations bring to light our willing acceptance of the reproduction as a stand in for the original, such as artificial flowers for fresh, malformed animals for healthy. By pairing original and copy together, authenticity becomes questioned. High and low art materials are shown side-by-side to beckon the same questions of what is lost and what is gained by these evolutions.

Michelle Rozic is an Assistant Professor of Art at Stephen F. Austin State University. She received her M.F.A. in printmaking from the Henry Radford Hope School of Fine Arts at Indiana University, Bloomington, in 2007, and her B.F.A. in fine arts from the Columbus College of Art & Design in 2003. Rozic has exhibited throughout the U.S. and abroad. Last summer she was a resident artist at CentralTrak, the U.T. Dallas artist residency program. Currently she is curator and designer for Edge of Life: Forest Pathology Art, a collaborative, invitational art and forestry traveling exhibit and catalog.