Mira Hnatyshyn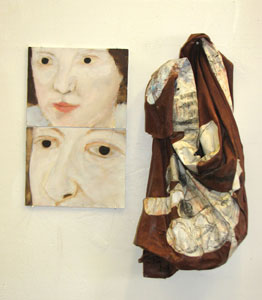 Lineage
@
cactus bra SPACE
106 C Blue Star
San Antonio, TX 78204.
210-226-6688 or 210-260-6562.
April 3 - 17, 2009
Open to the public on Friday, April 3, 2009, from 6 to 9 p.m.
Afterwards by appointment only.
Coming to Cactus Bra on the first Friday in April, artist Mira Hnatyshyn will be showing "Lineage – a Tudor Story" a room-sized exhibit of painting and sculpture that places historical icons from the English aristocracy in a contemporary context - the White Cube. Loosely based on the naïve style of anonymous court painters, Mira's installation challenges the viewers' knowledge of history and art with a contemporary comment on violence and gender roles. It includes paintings, sculptures, and drawings all tied to each other with thread, implying the nature of space and time.
Parts of Mira's work are intricately painted while other sections are left with just a line drawing. Some subjects are recognizable in appearance, while others are indistinct and mutated. Sometimes the canvas is flat and conventional, while other times it is molded with sculpted fabric and panel. Paintings are hung off-center, and swaths of canvas are left unstretched. Taken together, these techniques create a tension between the finished and the unfinished and create suggestions of movement and space meant to transcend the media.
Mira Hnatyshyn (Ha-nah-ti-shin), 45, is an artist living in San Antonio, Texas. Born to Ukrainian and Polish émigrés who settled in rural Maryland, Mira has long relied on art to preserve and transform her cultural identify amid a flood of competing influences.
Mira's solo shows include The Ides of Spring at The Robot Art Gallery in 2006; Fleshly Envelope at Stella Haus Art Space in 2005; Times 12 at The Robot Art Gallery in 2004; White Minutiae at Three Walls Gallery in Blue Star Art Space in 2003; and Rozmova Lubovlia (The Language of Love) in 2003 and Fuga Centri Fuga (From the Center) in 2002, both at Salon Mijangos. Her selected group shows include To a Degree at the UTSA Satellite Space in 2008; Chalk It Up, Feature Artist, Art Pace Community Event in 2008; Pomegranate, Saffron & Sage Gala Art Sale at the Southwest School of Art and Craft in 2007; Annual Student Art Exhibition at UTSA Gallery in 2007; Chivalries is this… through the Red Square Gallery Project in 2007; Building on the Intuitive at Arbor Art House in 2006; and The Summer Show & Critic's Choice at The Dallas Contemporary Art Center in 2005. Mira's work is included in the Saatchi collection in London and UTSA collection in San Antonio and other private collections.
Mira received her bachelor of science at the University of Maryland in 1986 and worked as a graphic designer /illustrator until 1998. In 2000, Mira began painting fulltime and exhibiting her work locally and nationally. After taking classes with prominent artists in San Antonio at the Southwest School of Art and Craft in 2003, Mira began to teach through the Young Artists Program at the Southwest School and ArtPace. In Spring of 2007, Mira began her pursuit of Masters of Fine Art in Painting at the University of Texas in San Antonio and expects to graduate in 2009.