Candace M. Briceņo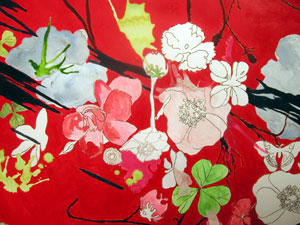 Wonderment
April 4 - 20, 2008
Opening Reception Friday, April 4, 2008, 6-9pm
After by Appointment
@
cactus bra SPACE
106 C Blue Star
San Antonio, TX 78204
210-226-6688
www.cactusbraspace.com

Cactus Bra Gallery presents Wonderment, a solo show by Austin-based artist Candace M. Briceņo that opens on First Friday, April 4, 2008, 6-9pm. Briceņo's work is based on her reinterpreted narrative observations she finds in landscape. Through the landscape genre she translates these findings into soft sculpture vignettes that are hand sewn and hand dyed. The dyed process that she uses on her wool felt incorporates her painting background with her fascination to further explore abstracted forms of landscape, shadows, and colors with the integration of drawing, painting and sewing.

Candace Briceņo received her MFA in Painting and Drawing from The School of the Art Institute of Chicago in 2002 and her B.F.A. at The University of Texas at Austin in 1994.

Briceņo has shown her work in solo and group shows that include, "22 To Watch" at the Austin Museum, Galveston Arts Center, Dallas Contemporary, David Castillo Gallery in Miami, Polvo Gallery in Chicago, MFA space, Dunn and Brown Gallery, a solo show at Women and Their Work and an upcoming group show at Art Museum of South Texas this Fall. Briceņo has received "Best Female Visual Artist" by the Critics of the Round Table in Austin, selected as one of the " Top 10 shows" in Austin in 2006, she is currently short listed for ArtPace's residency program.