Elaine Bradford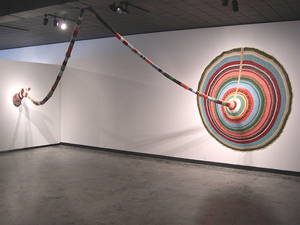 Crocheting Deer, Hidden Squirrels
Oct. 5 - 20, 2007
Opening Reception Friday, Oct.5, 2007 6-9pm
After by appointment
@
cactus bra SPACE
106C Blue Star
San Antonio, TX 78204
210.226.6688

Bradford crochets sweaters for taxidermied animals. These sculptures explore connotations associated with the act of crochet, such as images of grandmothers, hours of labor, and concepts of comfort and warmth.
These ideas are juxtaposed with the absurdity of the application in order to create humorous through provoking objects.

For her show at Cactus Bra she will be installing a large piece in which a taxidermied deer head, covered in colorful crocheted yarns, morphs into a 7ft circular afghan. Bradford will also be showing a recent series of taxidermy squirrels covered in ninja
like striped sweaters.
Elaine Bradford received her BFA from the University of Texas at Austin in 2000, and her MFA from the California Institute of the Arts in Valencia, CA in 2003. She currently lives and works in Houston, TX.