Julia Barbosa Landois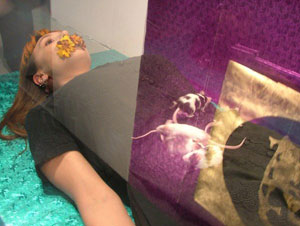 Veiled in Flesh
June 6 - 20, 2008
@
cactus bra SPACE
106 C Blue Star
San Antonio, TX 78204
210-226-6688
Opening Reception, Friday, June 6, 2008, 6-9pm
After by Appointment

Veiled in Flesh, an exhibition and performance piece by local artist Julia Barbosa Landois, opens Friday, June 6th, with a reception from 6-9 pm at Cactus Bra Space. The performance will commence at 6:30 pm and continue throughout the reception.
Veiled in Flesh takes place within an installation that includes artist-crafted objects, photographs, and video stills. The artist will be on view in a plexiglass vitrine and available for subtle audience interaction. The exhibition references Catholic aesthetics of body display while examining the role of ritual in the face of acculturation, all with a feminist subtext. The performance component of Veiled in Flesh debuted last year in Philadelphia at Ice Box Project Space. This is the first showing in San Antonio.
Julia Barbosa Landois, 29, lives and teaches in her native city of San Antonio. Her performances, videos, and works on paper have been shown throughout the United States as well as in Mexico and Portugal.