Magdalen Celestino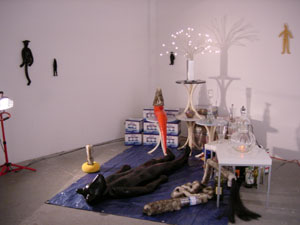 Plasmatika


December 2, 2005 – January 6, 2006
Opening Reception Friday December 2, 2005 6-9pm


@
cactus bra SPACE
106 C Blue Star
San Antonio, TX 78204
210.226.6688

My work is a means to tell a story of the universe on my own terms, according to my own experience. This process involves filtering the stuff of existence bit by bit, through a personal lexicon of strange and familiar things.

The story unfolds through an array of connotative materials, mundane yet fetishistic items loaded with cultural baggage: rubber latex, carbon black, Ikea furniture, blood, Maruchan Ramen, liquor bottles, hemp, crystals, wine, artificial fur, etc.

Painstakingly low-tech and sensuous, these installations are lab-like fragments involving wonky theories, mutant progeny (the "pupa", an animal-headed rubber figure, for instance), awkward apparatuses and assorted stashes of life residue.


Our tireless bid to transcend nature informs "Plasmatika". This work suggests a homemade cell whose nucleus, a singular, life-sized "pupa", is accompanied by a selection of organelles. Metamorphic mythology, scientific day dreaming, gothic detours, survival and making-do become key strategies.