Teresa O'Connor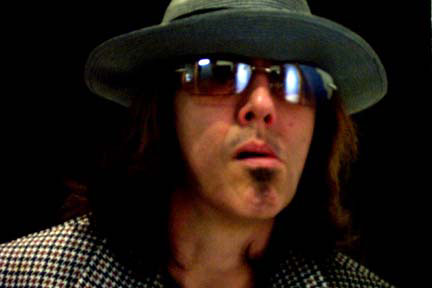 Character Introduction:
The Forty Something Male Singer
From the movie Making a Life
September 2 - 25, 2005
Opening Reception, Friday, September 2, 2005, 6 -9pm
@
cactus bra SPACE
106 C Blue Star
San Antonio, TX 78204
210.226.6688
The forty something male singer is more at home in a
small, uncrowded smoky bar, jukebox playing b songs
with a pool table that's felt is torn thus playing insists
that every shot curve around the rip. Why bother.
He hangs out here but no one knows who he is, he is invisible
or blendable as he has become as permanent and predictable
as the anchored bar stool he sits on each evening.
There is small area in the bar sometimes used as a stage.
Even though he is a singer, or at least thinks he is, he never
sings on that stage. Instead, each night when he goes home
he puts on some music that he feels epitomizes who he is that day,
and he sings along, television flickering nonsense, glowing in the
lamplight.
His home is small. Every thought he has ever had seems to be
strewn about the space, piles of clutter, notes and clippings,
and bottles with candles. The space appears as a cross between
some kind of spiritual place and some place absent.
The recording on view is one of the few times he recorded himself
singing in his home. Oddly enough, he recorded his actions
but not his voice. The video on view has been edited, the song that
he was singing along with has been inserted.

Song Give Me a Day
CD Song from the Bottle
written and performed by Jim Wagner
Sonic Bark Productions